Everything You Need to Know about eBay Managed Payments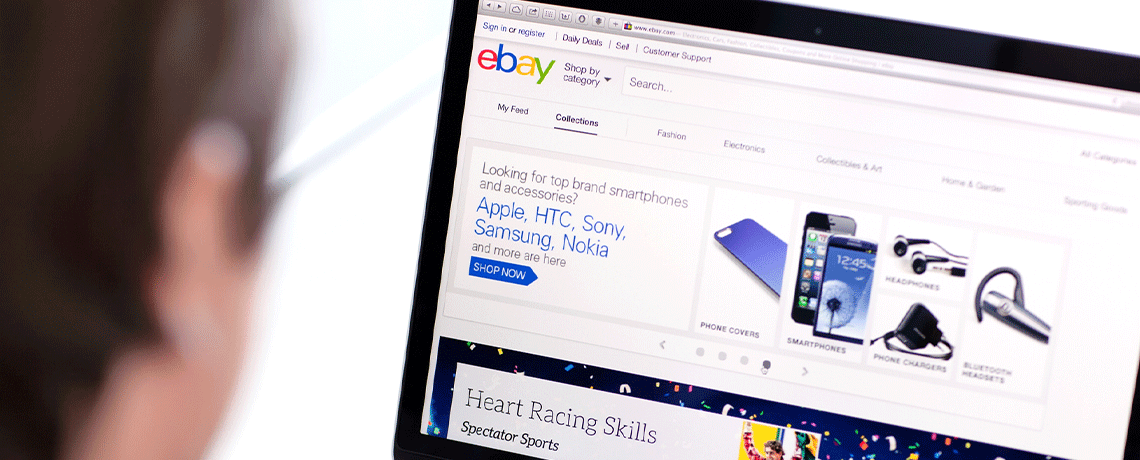 Sound On! Listen to the audio version of this article (read by a real person) here: 
Disclaimer: Payability does not claim to have any inside information on how and when eBay or any marketplace releases payments. The following is based on research and publicly available information.
EBay finalized their transition from PayPal to eBay Managed Payments in September of 2021. To help you better understand eBay Managed Payments and what it means for your eBay business, we put together the following guide where you'll learn what the program is, how it affects your payments schedule, and more. 
What are eBay Managed Payments
According to eBay, the goal for its managed payments program is to simplify the shopping experience for both the buyer and the seller. For buyers, there are more ways to pay so they can now use their preferred payment method — be it credit, debit or gift cards, PayPal or PayPal Credit, Apple Pay or Google Pay. According to eBay Sales and Social Media Success Coach, Kathy Terrill, Owner of I Love To Be Selling, the increased number of payment options particularly mobile payment options is a big gain for businesses selling on eBay. "eBay's Managed Payments is a win for sellers with its inclusion of the popular mobile payment apps Apple Pay and Google Pay," said Terrill.
The more payment options buyers have, the more sales you stand to make. While a wider variety of payment options is a huge perk of the program, eBay suggests that listings not include any references to methods of payments accepted in the item descriptions in order to prevent inaccurate listings and buyer confusion. For sellers, you now have one centralized place to manage your sales and payments, and you can link your bank account directly to eBay. eBay expert Paul J Lipsky also weighed in on this in a recent YouTube video. 
How it works
eBay's managed payments system is designed to simplify the process of selling things on eBay for businesses. With managed payments, businesses can accept payments from buyers through a number of popular payment methods, including credit and debit cards, PayPal, and Apple Pay. eBay will then handle all aspects of the transaction, from processing the payment to issuing refunds, if necessary. This makes it easy for businesses to sell on eBay without having to worry about setting up their own payment processing system.
How to set up eBay Managed Payments
To set up eBay managed payments for your sales, you will need to navigate your seller account settings and select the appropriate options within the payment settings tab.
First, you will need to sign into your account and click on the 'my ebay' section. Here, you should find a list of all of your active listings, along with any business policies that are relevant to those listings. Next, scroll down to the section labeled 'payment methods accepted', and look for a button called 'change', or simply titled with the word 'ebay'.
Once you have clicked on this button, another dropdown menu should appear, in which you can choose to activate managed payments. Once enabled, it may take a few days for eBay to give this feature full approval, but in the meantime, you can continue to accept payments as usual through PayPal or any other form of payment that is acceptable in your specific region and sector.
eBay Managed Payments Pros
As with any new policy change or rollout, eBay Managed Payments works better for some businesses more than others. To help you make sense of the program, we've compiled the following pros, cons and considerations:
Automatic Payouts

: Instead of transferring funds between accounts, Managed Payments offers direct deposits into your bank account. 

More Streamlined Accounting:

Since everything is now in one place, sellers can more easily manage transactions and the accounting required from them.

Longtime eBay seller Shari Smith

says, "Having eBay making automated payouts is much better for me because I don't have to make transfers. There's one less account for me to track. With managed payments, at the end of the year, it saved me a week of accounting."

More Options for Customers = More Sales:

Managed Payments offers buyers a full spectrum of payment options (credit cards, debit cards, gift cards, PayPal, PayPal Credit, Google Pay and Apple Pay), so they can use their preferred method regardless of where they live, the devices they use, or the items they purchase. With all these options, customers are more likely to follow through with a purchase. 

Increased Seller Protection: Managed payments gives sellers the ability to manage disputes and chargebacks directly through eBay rather than a third party which provides them with an added layer of protection. 
eBay Managed Payments Cons
Not Supported by PayPal Working Capital:

At this point, PayPal doesn't have a solution to check all of your eBay sales, which means they can't offer any finance solutions based on it. They can only offer solutions based on non-eBay PayPal sales. Sellers will have to find alternative ways to finance their business. 

Luckily, Payability offers eBay businesses on eBay Managed Payments an alternative to PayPal Working Capital in the form of

Instant Advance

. A Payability Instant Advance is a capital advance based on your future marketplace or eCommerce website's sales. Approval is based on account health and sales performance, so there are no credit checks and you can get approved for up to $250,000 in as little as 24 hours. Many eBay businesses that have already switched over to Managed Payments have successfully taken Instant Advances and continue to use Payability to grow their eCommerce businesses. More on Instant Advance below. 

Slower Payouts:

eBay claims that funds can take 2-4 days to hit your bank account, but several sellers in the eBay seller community

have reported

waiting seven days or more for payment. This is likely because a standard ACH payment can take 3-5 business days to post to your bank account

 

Potential Shipping Violations:

Many sellers don't ship an order out until sales proceeds hit their accounts, so if you're waiting multiple days for payment, you might end up violating the shipping times a customer (and eBay) expects. To overcome this hurdle, some sellers currently on the program update their order processing time so buyers are aware of a potential delay before it actually happens. While it's good to manage expectations, this might turn buyers away altogether.

Added Fees:

In addition to a payment processing fee of 2.7% of total order value, eBay announced an added transaction fee of $0.25 per listing per order. This means that $0.25 will be charged for each unique listing in an order (but if multiple quantities of the same listing are in an order, the fee will only be charged once).
Other considerations: 
The Global Shipping Program, charity and donations are not yet supported on managed payments.

Some sellers have had to pay for shipping on a credit card. While this can be convenient, eBay might still be holding payouts when your credit card bill is due.

eBay will put an "okay to ship" notice in your seller account, which essentially means that payment has cleared. Keep in mind, however, that this doesn't necessarily mean the payment has hit your account. This is because of delays from your own bank and/or Adyen (the payments platform eBay uses for Managed Payments).
Your eBay
Managed Payments Options
As you can see, there are a lot of things to consider when it comes to Managed Payments on eBay. On one hand, the program is designed to streamline your business operations so you can focus your attention where it's really needed. On the other hand, eBay sellers are going to get paid later for their sales than they have grown accustomed to. 
Like eBay is continuously working on improvements based on real-time feedback from managed payments sellers. For example, PayPal initially was not a payment option for buyers — a problem that many sellers credit for their loss of sales. However, eBay added PayPal and PayPal Credit to its payment methods this year. According to this Facebook video from eBay, they have a long list of features to add and changes to make based on seller feedback — some are just prioritized over others.
While they continue rolling out the program and working out the kinks, you can prepare yourself for your own transition to it or work through any common hurdles if you're already in. Let's look at some of your options.
Should I leave eBay?
PayPal is offering to help sellers migrate away from eBay since they can't finance your business based on eBay sales. They suggest focusing on other marketplaces or setting up your own webstore with PayPal built in as a payment solution. 
For many sellers though that isn't realistic.
eBay accounts for billions of dollars in GMV. If you want your piece of that pie, have discovered products that sell well on eBay and/or created a loyal following of repeat customers on eBay, leaving eBay isn't really an option. Even if you sell more on other marketplaces, it's best to stay on eBay too as it's more important than ever to diversify. While you may want to consider adding new channels, managed payment or not, it's best to stay on eBay. 
Should I wait it out?
This seems to be the solution many eBay sellers have decided on. After all, old habits die hard and you may not have to transition away from PayPal anytime soon. So why make a change if you don't have to? In the meantime, however, try to come up with a plan for when you inevitably have to switch over to Managed Payments.
Are there PayPal Working Capital alternatives?
A huge complaint from existing managed payment sellers is around added fees and slower payments — both of which hurt cash flow.
This puts sellers in a tough spot, especially with popular options like PayPal Working Capital and Kabbage both unavailable. Read more about how Kabbage paused its lending options to focus on PPP funding. 
As we mentioned above, there's solutions like Payability designed to help eBay sellers overcome cash flow hurdles presented by these changes.
With Payability's Instant Advance option, sellers can get an advance on future eBay sales, which can be used to grow your business and spend on marketing and inventory. The best part is that the advance is based on all your marketplace sales, including eBay, and account health. There's no credit checks, no complicated paperwork, no origination fees, and no hidden fees. Best of all, Instant Advance customers receive a fee rebate for every week the advance is collected early. Instant Advance works well alongside other offerings such as Amazon Lending, Shopify Capital, and even PayPal Working Capital, but you must have switched off of PayPal and be on eBay Managed Payments in order to get an Instant Advance. Other qualifications also apply. 
Payability also offers Instant Access or accelerated daily payouts for sellers paid on terms by the marketplaces they sell on. Sellers on Amazon, Walmart, Newegg, and more can get their payouts one business day after making a sale — or the same day if using the Payability Seller Card. If you're missing opportunities to grow while waiting for your marketplace payouts or are facing an Amazon Unavailable Balance, Instant Access is an excellent solution trusted by thousands of eCommerce businesses. Spend your Payability balance on the Seller Card and earn up to 2% cash back. Learn more about Instant Access and the qualifications here.  
Think Payability is the solution for you? Apply now through our short online application and connect all of the channels you sell on. We'll never pull your credit and you could be approved in just 24-hours.  
Payability works with sellers from a number of ecommerce platforms that pay on terms or have delayed payouts, including Amazon, Walmart, Tophatter, Newegg, and more. We are truly a multichannel financing solution for eCommerce businesses. We recently launched Instant Advance for Shopify that works well alongside Shopify Capital and other funding options. If you haven't been rolled into eBay's managed payments program, you can prepare your business now for Payability's solutions. What do we mean by this? Payability never runs credit checks — instead, Payability looks at your overall selling performance and account health to make its decisions. So take a look at your numbers and see if there is any room for improvement. If things are in good shape already, keep up the good work and consider Payability once you're an eBay managed payments seller.
Improve your cash flow today
Apply to get daily payments and capital for your growing business in as fast as one business day. No credit checks or external documents required.
APPLY NOW
Need more information? Call us at (646) 494-8675 or email sales@payability.com